November 2021

In August this year, we wrote about the proposed rental reforms awaiting parliamentary approval. Fast forward to today and the bill has been passed. Some items have not yet come into effect nor had a commencement date set, but things are beginning to change for prospective and current investment property owners.
Take a look below at what the new legislation means for you!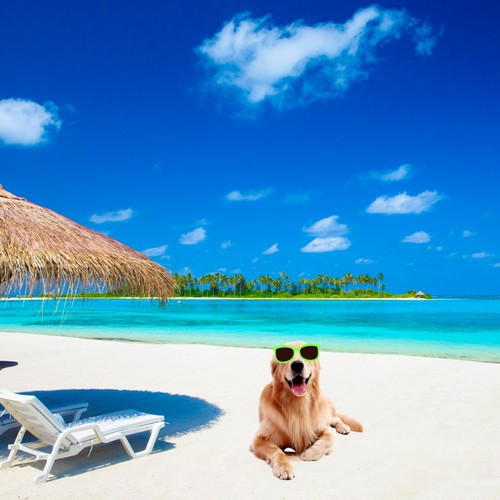 New Tenancy Legislation – A Doggy's Dream?
Dogs, cats, birds, fish? Approval of pets. It's the law getting the most attention and creating much distress amongst property investors.
"A renter can seek the property owner's permission to keep a pet, and property owners can only refuse a request on identified reasonable grounds, such as keeping the pet would breach laws or by-laws." The property does also need to be suitable for the pet, i.e. with fences, reasonable size yard. So, for owners of a unit or townhouse, pet approval power still remains with the body corporate committee. However, for most others it means a blanket 'no pets' policy is no longer an option. Note, it is still unknown when this change will come into effect.
Likewise changes to ending a tenancy 'fairly' have been passed but not yet implemented. Property owners can no longer end a tenancy, simply 'without grounds'. New grounds to end a tenancy are as follows:
The end of a fixed term tenancy agreement
Need to undertake significant repair or renovation
Change of use (owner moving in) or sale or preparation for sale of the rental property requires vacant possession
A serious breach (eg. rent arrears or damage) remains a valid reason for eviction. What this means is, it will become more difficult to replace a tenancy on a periodic lease as the grounds of 'end of a fixed term tenancy agreement' don't apply. For a periodic agreement, it won't be possible to end such a tenancy easily unless the owner wants to renovate, sell or move into the property.
Also, domestic violence victims can break their lease with 1 weeks notice and replace locks without owner approval. This emergency COVID legislation has been made permanent and is already in effect. As well as a reform to ensure properties of sound condition, set to commence in September 2023.
These changes do give tenants more security but it removes some power from property owners in terms of control over their valuable investments. Moving forward – now more than ever – with all the forthcoming legislation changes, a well-informed and experienced property manager is imperative. Your property manager needs to wholly understand the new legislation in order to look after your best interests and protect your largest asset.
Take a look at the statistics below…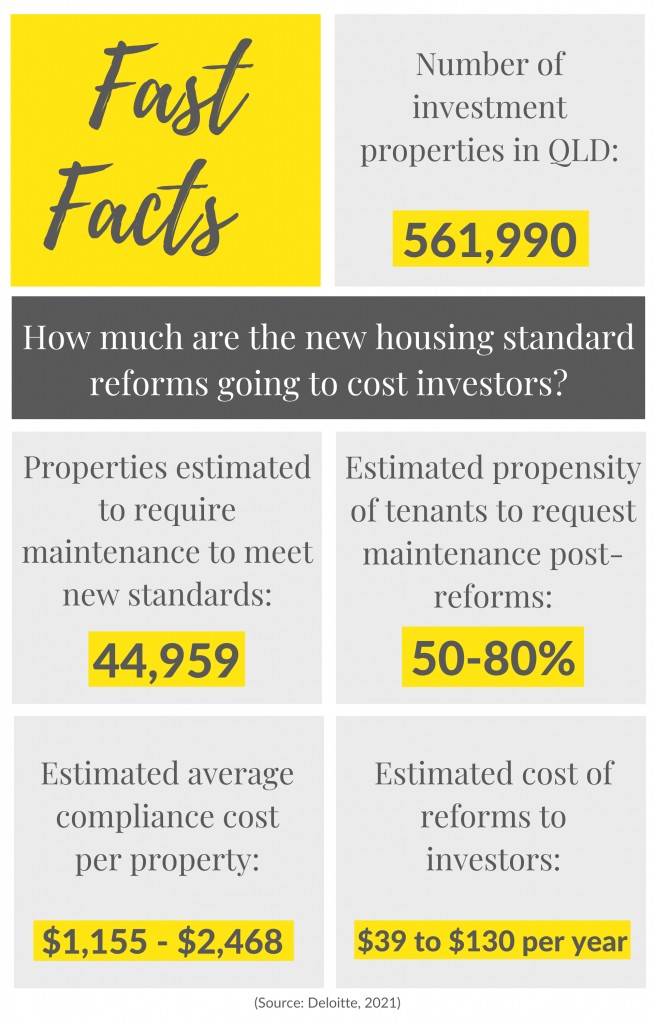 October 2021

Sale prices for houses in Brisbane are booming but do we see the same trend for apartments? Dive into the details below!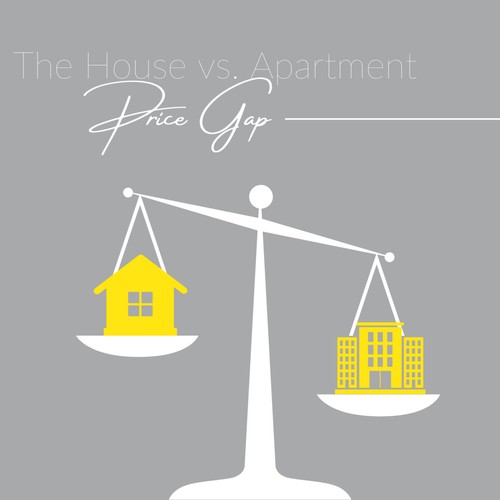 The House vs Apartment Price Gap
In Queensland, our residential preferences have always shown houses to be more popular than apartments and this has only been reinforced in recent times. The price gap between houses and apartments in Brisbane has drastically increased since the onset of Covid-19 to a record high of 58%. In particular, inner city apartments are in severe oversupply, classified as a high risk investment for both equity and cash flow. However, is this all about to take a turn?
We see two major factors contributing to the possibility of a price gap reduction between houses and apartments.
Apartment construction throughout Brisbane rose substantially around 2016, creating an oversupply of stock as fewer investor buyers were present in the market. Fast forward to today, we are now seeing construction costs significantly increase, lowering demand for new high rise apartment buildings. This directly correlates to an increase in apartment prices.

Brisbane has already seen over 23,000 interstate arrivals in the past year. With international borders anticipated to slowly reopen soon, we expect to see a large amount of overseas migration. Many immigrants will desire to live close to Brisbane CBD and inner-city universities. Given the soaring house prices we are experiencing, renting or purchasing well-positioned apartments will likely be the most feasible and affordable options.
We all know that houses in Brisbane are achieving higher and higher prices every day with little evidence of slowing down. House prices have been consistently rising with an average monthly growth of 2% since the start of the year. Whereas, apartment prices have been at more of a standstill with an average increase of 0.8%. However, apartment prices have risen 1.4% for the month of August. Is this just the beginning of a strongly anticipated price gap beginning to narrow?
Top tips for investing in an apartment:
When looking to purchase an apartment, we have learnt a few things from the impacts of Covid-19. Highly desired features include:
Livability
Location
Spaciousness
Has an outdoor area
As well as, in the past we have seen several major trends evident in successful investments:
Properties located within 10km from the CBD
Has a train line nearby
In a highly desirable school catchment
Household income in the area is well above the Queensland average
Take a look at the statistics below…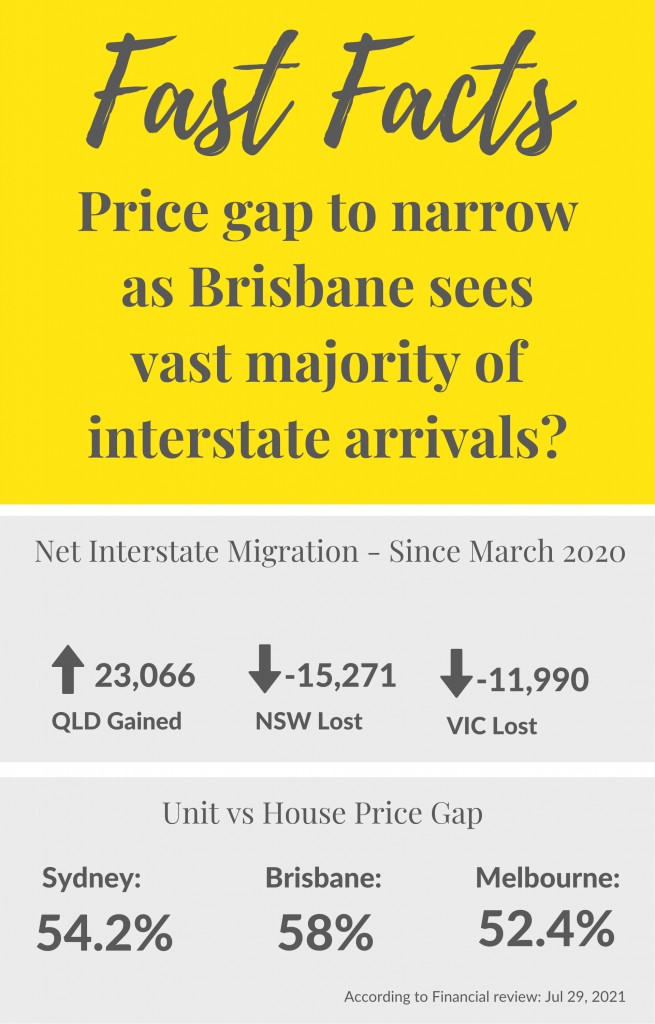 September 2021

Everyone has surely heard by now – Brisbane is officially the host of the 2032 Olympics! Let's take a look at whether holding the Olympic Games actually influences host cities' property prices.
Brisbane Olympic Games vs Property Market
When speaking to investors recently, they are advising, "I'm purchasing this property because the Brisbane Games is approaching" or "Instead of selling my investment property in this heightened market, I'll hold onto it for another 11-12 years." But what effects have we seen in the past to support these hopeful forecasters?
Barcelona hosted the Olympic Games in 1992 and saw an increase of 130% in property prices over the 5 years leading up to the event. The city underwent major renovations with the addition of the Alta Velocidad Española, a high speed train line connecting to Madrid. As well as a revitalization of the city's waterfront district, this no doubt contributed to the price spike.
Sydney hosted the 2000 Olympic Games and saw the property market increase by 88% over a 5 year period. $6.6B was spent on improving infrastructure and transportation. However, the reason for this housing market boom was the great economic prosperity that Australia experienced around this time. During this 5 year period, influences such as tax reform (GST), large property buyer grants, a global technology boom and unprecedented economic development occurred independent of the Games.
London hosted the Olympic Games in 2012 and saw housing prices increase 38% over 5 years. The impact of this boom is significantly lessened by the enormous $16 billion expense of preparing to host.
Brisbane will host the 2032 Olympic Games.
It's yet to be determined how Brisbane will be impacted by the Olympic Games. "The traditional seven years from announcement to event date has been extended to 11 years, thereby further diluting the investment." says Simon Pressley, Head of Research at Propertyology.
South-East Queensland already has plenty of existing infrastructure since hosting the 2018 Gold Coast Commonwealth Games. As such, the cost of preparations has reportedly been advised to be lower other cities' spending, estimated at $4.5billion.
Property owners should not bank on the Olympics to stimulate high growth in the residential market. In reality, refurbishment projects and upgrades to transport and other services and facilities could have a beneficial impact on property prices, not necessarily from the Olympics. Instead, Pressley advises "to focus on the Olympics for what they are: a fantastic display of talent, sportsmanship and national pride".

August 2021

This month we dive into how the newly proposed Housing Legislation can affect your power as an investor. Will tenants gain more rights than landlords?
QLD Housing Legislation Amendment Bill
Buying your first investment property today could soon have a different impact for the future than expected. The Queensland Government has recently introduced their Housing Legislation Amendment Bill 2021, awaiting parliament approval. How will this edition of the Bill impact investors? Take a look below:
Having a Fixed Term lease in place has always been a crucial recommendation from property managers, however it may become more crucial than ever. If a lease expires and rolls over to a periodic agreement, you'll no longer be able to ask your tenant to vacate without grounds, or at least have very strict limitations around the Notice to Leave requirements.
Landlords will no longer be able to refuse pets, without adequate reasons. Yes, your property still has to be appropriate and suitable for the certain pet, however if you own a house with a yard & fencing, its likely that saying 'no' is in the past. And you won't be able to ask for more bond or rent to accommodate the higher risk of damage.
Ensuring your property is 'ready to rent' is next on the chopping block. Any evidence of vermin, dampness and mould must be remedied prior to a tenant moving in and managed promptly throughout the tenancy.
Predictions suggest that a higher amount of property investors may sell in order to put their money into a more investor controlled environment. This would mean less rental properties available, the same high demand and as a result rent prices will increase.
See further insights and information on the bill here: Rental Law Reform – Housing Legislation Amendment Bill 2021.
Now more than ever, it's important to have the best advice on investment opportunities and a knowledgeable property manager to guide you through these proposed changes!

July 2021

Happy New Financial Year! So far, 2021 has been an exciting year for real estate and we have seen unprecedented growth in the Brisbane property market.
January-March quarter growth of 5.31%
Annual growth of 8.22%
Ashgrove is Brisbane's newest member of the Million Dollar Club. With an increase in median house value of 19.69% now sitting pretty at $1,207,524 (from $969,899)
Is it safe to say these numbers are expected to be the norm now? Who will be in Brisbane's Million Dollar Club next year?